Lake Charles Auto Auction
Family Owned Since 1991
Since 1991, Lake Charles Auto Auction has been family-owned and operated. Mike Pedersen & Matt Pedersen are a father/son duo like no other.
What sets Lake Charles Auto Auction apart from other auctions is the customer service. Customers deal directly with the auction owners and this VIP treatment is what keeps customers and vehicles returning weekly from hundreds of miles away. At what other auto auction can you find the owners auctioneering their own sale? It's a family affair complete with good ole southern hospitality.
Though an independent auction house, Lake Charles Auto Auction does not lack up to date technologies and programs. Lake Charles Auto Auction is cutting edge and boasts Edge Pipeline, OVE, Openlane, SmartAuction, Liquid Motors, My Auction Spotter and more.
With the surge of corporate buy-outs of independently owned auctions in the past 20 years our customers are thrilled to do business at an independent auto auction that is technologically up to date and customer service orientated. Come see us at Lake Charles Auto Auction where there is no corporate red-tape and you will discover the difference!
405618
Vehicles Consigned

LCAA is excited to be partnered with GSA Fleet Vehicle Sales!
View the resources below to learn more about our partnership, and stay informed about upcoming GSA auction dates and info.
GSA lane is open to the public
Only the GSA lane has public access. All other lanes are Dealers Only.
Lake Charles Auto Auction. Discover the Difference!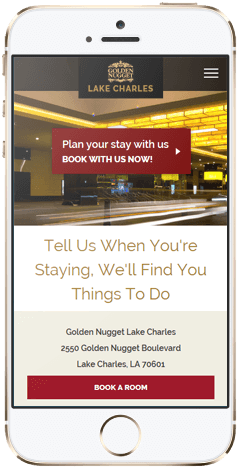 Perched on a picturesque curve of the Lake Charles shore, Golden Nugget Lake Charles is an escape like no other. Choose your perfect accommodations from 1,100 luxurious guest rooms and suites featuring stunning views and a generous serving of genuine Louisiana hospitality. Fill your stay with world-class casino games, destination restaurants, and boundless entertainment, shopping and nightlife options.
*MUST ATTEND AUCTION FOR DISCOUNTS TO BE APPLIED
Book Now
What our Clients Said

"Everybody greets you with a smile and they take care of you, customer service is great"
Car Town of Monroe

"They are honorable and do what they say, that means a lot to me, that's key"
Silsbee Motor Co

"They always have great cars, they stand behind what they do, they treat you like family"
American Auto Brokers Online
Reconditioning Pricing and Options
Free Breakfast Before 10AM
We offer a complimentary breakfast before 10am. After 10am we have more breakfast and lunch options available to you at a minimal price, and don't forget your drinks! Take the time you need in our air-conditioned cafe.
Online or In the Office
Almost every service we offer can be done from your office or in our office. Whether you want to bid online via Simulcast or come into the lanes. We even offer notifications, emails and text messages. Need to get us a payment quickly, just email your check to accounting@lcaa.com or text it to 337.499.5844!
Memberships has its Rewards
We accept Auction Access members instantly. We also handle a multitude of Floor Plan companies including AFC, Car Bucks, NextGear and more! Signup for any of these services today in our office or give us a call.
Post Sale Inspection Options
7 Day
Less than 125K Miles
$125/car
*Must be Green Light
30 Miles / $500 Per Item
Engine • Transmission
Rear Differential • 4x4
$85/car
*Must be Green Light
30 Miles / $500 Per Item
Engine • Transmission
Rear Differential • 4x4
7 Day
More than 125K Miles
$175/car
*Must be Green Light
30 Miles / $500 Per Item
Engine • Transmission
Rear Differential • 4x4
A special thank you to all of our valued partners!
---